Choose a Different Story
Car Ferry Milwaukee Lost in a Storm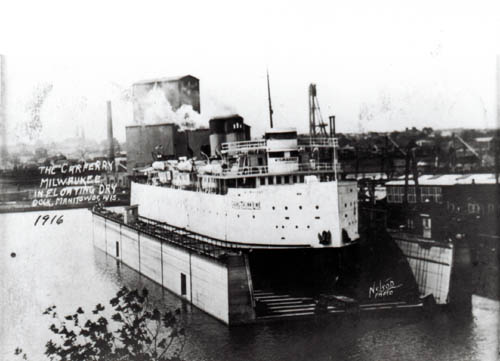 October can be a dangerous month on the waters of Lake Michigan, and that was the case on October 22, 1929. The car ferry Milwaukee had made a trip across the lake from Grand Haven, Michigan to Milwaukee, Wisconsin earlier in the day when the seas were already getting rough.

By 3 PM the ferry was filled with train cars loaded with a variety of goods including bathtubs, food, and automobiles, ready to go back across to Grand Haven. Captain Robert "Bad Weather" McKay had sailed rough waters many times over his long career and knew that his crew would keep the engines oiled and running, stay on course, and keep the ferry afloat despite the huge waves. He and a crew of about 50 headed out into the terrible gale that proved too much for them. After the U.S. Lightship No. 95 saw the Milwaukee pass by at 3:45 PM, the car ferry was never seen again.

At first people thought the captain had found a safe place to wait out the storm or had just been slowed down by it. But two days later wreckage started showing up along the Wisconsin shoreline. None of the crew survived. One of them left a note in a message case aboard a lifeboat. Part of it said, "The ship is making water fast. We have turned around and headed for Milwaukee... Seas are tremendous. Things look bad."

In 1972 divers found the ship resting upright in 120 feet of water ten miles from Milwaukee. Train cars filled with bathtubs and automobiles can still be seen by divers visiting the site.
Click here to listen to the story of the Milwaukee.
Ready? Test your Knowledge!